Featured Image: Young enthusiast helps build community garden and pollinator waystation.
The GCCF team celebrated several community projects, including "Project Pollinator" in Poplarville, and "A Blues Chronicle" in Bay St. Louis. These endeavors are two of 50 Coast Electric Community Trust (CECT) projects implemented in 2021 and 2022 by grant recipients of Operation Round Up (ORU), a funding pool sourced by Coast Power Association members who round up their utility bills.
Poplarville's wildflower community garden and butterfly waystation were installed by Pearl River County's Mississippi State Extension Office and 4-H Club, and local master gardeners. Poplarville Mayor Louise Smith praised Extension Agent & County Coordinator Eddie Smith for his support of the Poplarville master gardeners, who embraced her throughout her life as a Poplarville resident.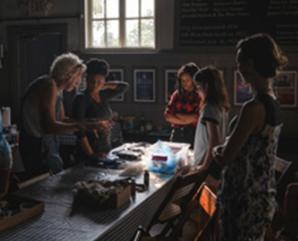 In Bay St. Louis, the 100 Men Hall marked their 100th anniversary with a free community workshop, taught by artist-in-residency Jimbo Mathus and local artist Dale Pohl. CECT's ORU grant funded supplies for 25 children (ages 7-20 years old) to create marionettes (clay work, sewing, and painting), construct a stage (carpentry), design the set (lighting and painting), and become proficient in storytelling and script writing, around the history of Blues in Coastal Mississippi.
The CECT is one of 120 charitable Community Foundation funds, started and supported by generous donors like you, to transform neighborhoods and empower residents. Worthy community projects should be on the lookout for CECT's upcoming Round Up grant cycles, August 1-31, 2022, and February 1-28, 2023.